STS-93 Space Shuttle Reentry Photos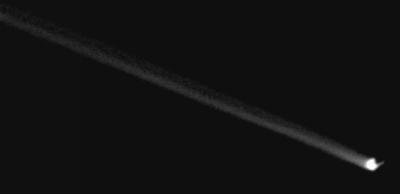 STS-93 returned to Earth on July 27, 1999. The Shuttle Columbia passed 17.3 degrees above the Northern horizon as seen from Houston. Closest approach to Houston occurred at about 10:04pm CDT with landing occuring at 10:20pm CDT. Below is the path of Columbia across the Southern U.S. The image is cropped from one on the Shuttle web site.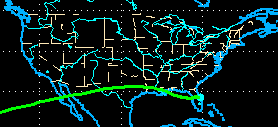 The following shows frames from a low-light video camera of Columbia. The images were taken with a Supercircuits PC-23C 0.04 lux grayscale video camera at prime focus of an 8" f/6.3 Meade LX-200 telescope. Exposure times were probably 1/60th of a second. The individual frames were digitized as 8 bit grayscale images and each is composed of a single field from the video interpolated to fill in the alternating gaps.
---
Keeping the telescope pointed at the orbiter turned out to be an exercise in futility. The vehicle was never in the frame for more than about 0.2 seconds at a time. These events were few and far between. When the Shuttle actually appeared in the frame, its image was blurred because of my wild flailings as I tried to catch the thing. Anyway, here's the frames that are at least sharp enough to enable some nut to think they see 1) evidence of alien activity, 2) "another NASA cover-up"&reg or 3) the hydrogen leak.
The top row of images were taking before the orbiter reached Houston and thus shows generally a bottom/front view of the vehicle. What is possibly radiation from the shock layer is overexposed in the image so no detail can be seen.
The other images were taken after the mid-point of the pass. What could be a top/rear view of part of the orbiter can be seen just to the right of the brightest part of the images.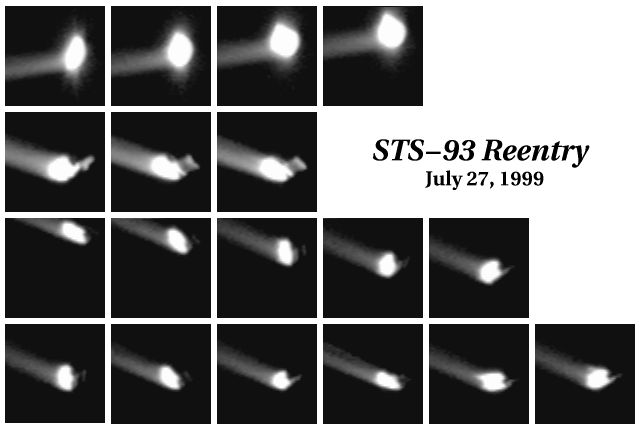 ---
Every once in a while I stopped the telescope for an instant with the trail behind the vehicle in view. The following is a set of these images with the trail in various stages of breakup. The images with the smoother trails were taken closer to the orbiter than the ones with a more contorted appearance. Those sloping somewhat from lower left to upper right were taken before the mid-point of the pass and the others were after it.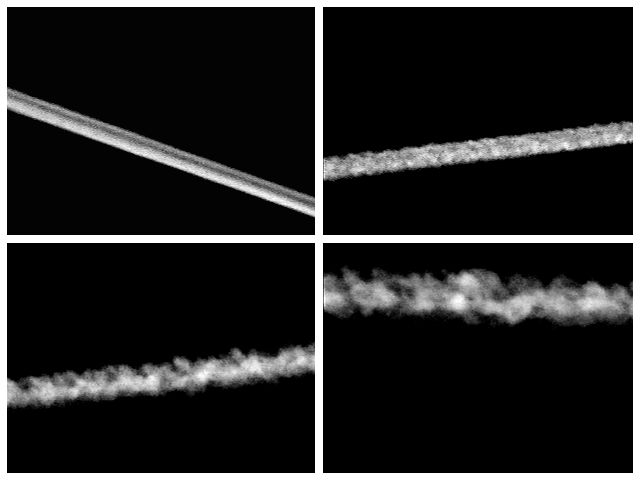 ---